BIREI Plan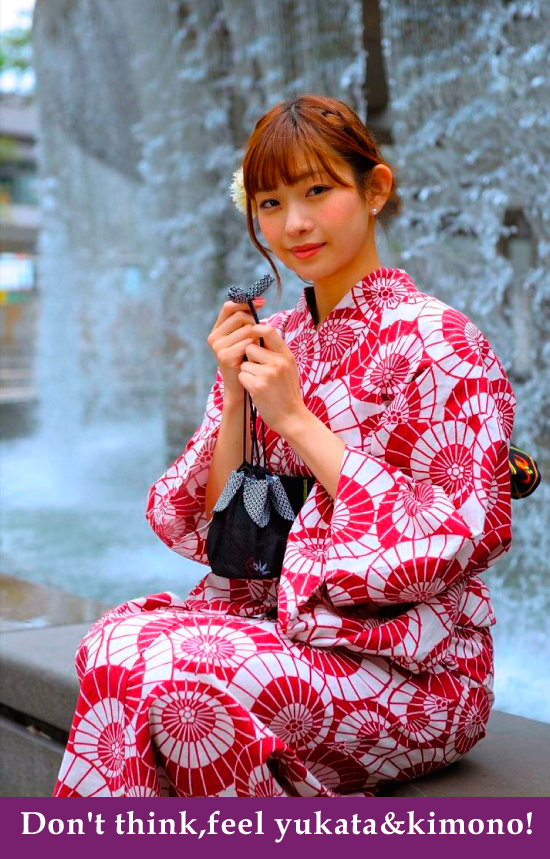 Let's take the air dressing beautiful kimono that reflects a sense of the season.
As we know, we have beautiful four seasons in Japan.
We would like you to feel how comfortable to wear Kimono in rhythm with the seasons.
---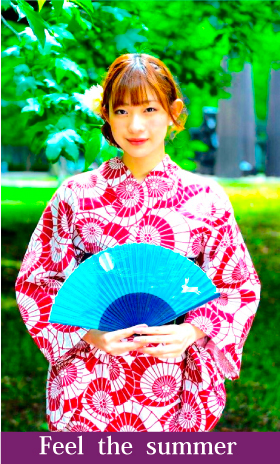 Summer kimonos, called YUKATA is ready for you!
WHAT IS YUKATA !?
Yukata is a casual summer wearing in Japan, and very popular and comfortable to wear in summer.
So people in Japan often wear Yukata for summer night, fireworks festivals, and Bon dancing party!

Compared with Kimono, Yukata is very casual and easy to wear because of less layers.
However, it would be really difficult to dress beautifully, and securely.
So, we carefully pay attention to the lines and figures to make your yukata style perfect!
Also, our Obi belt arrangements are the must-see!
We are not using easily generated obi belt, but arranged to make great figures with long obi-belts by hands.
It will be beautifully arranged on your backside.
BIREI's YUKATA is the BEST!!
We selected our yukatas with holding to our uncompromising standards!
Some are all hand-sowing, traditionally dyed with indigo and the deep blue is indescribably beautiful.
Cool, beauty, elegant, cute, modern, antique...!!! Any style you want !
You can be what you want to be with our yukata!
OUR PRICE IS INCLUDING EVERYTHING!!
The Price includes tax, hair accessories, summer underwear, yukata shoes, and etc. Nothing should be prepared in advance.
Also, we offer all types of yukata with same price! No ranking differences.
FIREWORKS FESTIVALS schedules 2017!
7/22 (Sat) Adachi Fireworks・Hachiouji Fireworks
7/25 (Tue) Katsushika Fireworks
7/29 (Sat) Sumidagawa Fireworks
8/1 (Tue) Koutou-ku Fireworks
8/5 (Sat) Edogawa Fireworks・Oume Fireworks
8/5 (Sat)  Itabashi Fireworks
JINRIKISHA OPTION (¥2,000~)
After dressing kimono, your Jinrikisha will pick you up from our place to Kaminarimon gate (15min).
---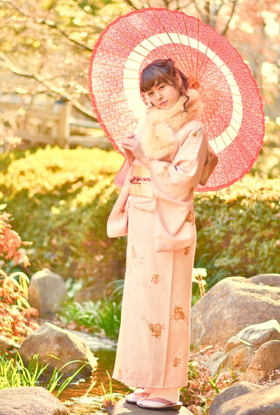 After completed dressing Kimono, you can take a walk around and have fun for sightseeing Asakusa for 2 hours. We would like to recommend some good places to see and eat that only locals know!
---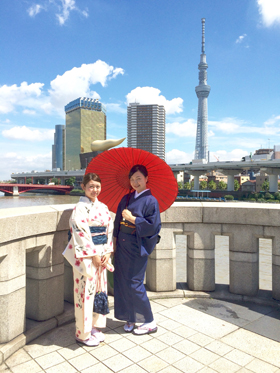 After completed dressing Kimono, you can spend your valuable time with Kimono until 16:30. For example, you could enjoy a vaudeville show, called YOSE in Asakusa, or take a train to Ginza to see KABUKI if you want!!
---

Hakama is one of the traditional wearing for male, as you see below.
It is put on Kimono and can be used for formal scenes, such as tea ceremonies, graduation, and wedding.

If you see Japanese samurai movies, you will find they wear Hakama very cool!

you can move easily than normal kimono since it is like skirt or pants.

Let's feel Samurai spirit with Hakama!
---
Hakama for Ladies!! : ¥7000

We have also Hakama for ladies!!
It is knows as a formal wearing such as graduation, but you can also wear daily.
Since Hakama used to be a uniform for young girl students, you will find you can move easy and can be active with hakama!

Hakama is available from Oct to May!
If you have any questions, feel free to contact us!!
---
Option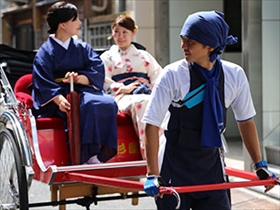 After dressing Kimono, JINRIKISHA KOSUGIYA, one of the most professional JINRIKISHA people will pick you up at BIREI. They will take you to a wonderful trip rom Sky tree to KAMINARIMON (takes about 15min).

ASAKUSA JINRIKISHA KOSUGIYA
http://www.kosugiya.biz/index.html
---
Experience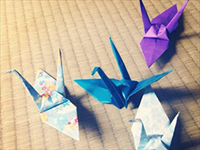 (Main Plan + 2000 Yen / If you try only ORIGMI, it will be 3000 Yen).
Cranes and seasonal flowers you will fold could be a great souvenirs for your friends and family!!
---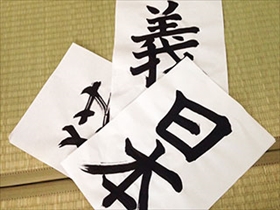 ( Main Plan + 2000 Yen / If you try only Calligraphy, it will be 3000 Yen).
You can choose some characters or words you prefer to write. Rapped nicely to take your home with you!!
---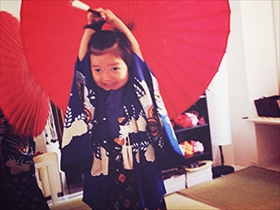 We have Kimonos for Kids!!
Main Plan : Same prices as Adult's.

SHICHIGOSAN (The Seven-Five-Three Festival ) Plan : 7530 Yen / person Dress-up Kimono, Nice photo with a frame, and candies for celebration of SHICHIGOSAN, festival for 3-year-old boys and girls, 5-year-old boys and 7-year-old girls. Normally Shichigosan festival is held in November. We celebrate our children's good healthy long life and hope their good lucks in the future.
---
※ You can buy TABI Socks you use for 500 Yen.